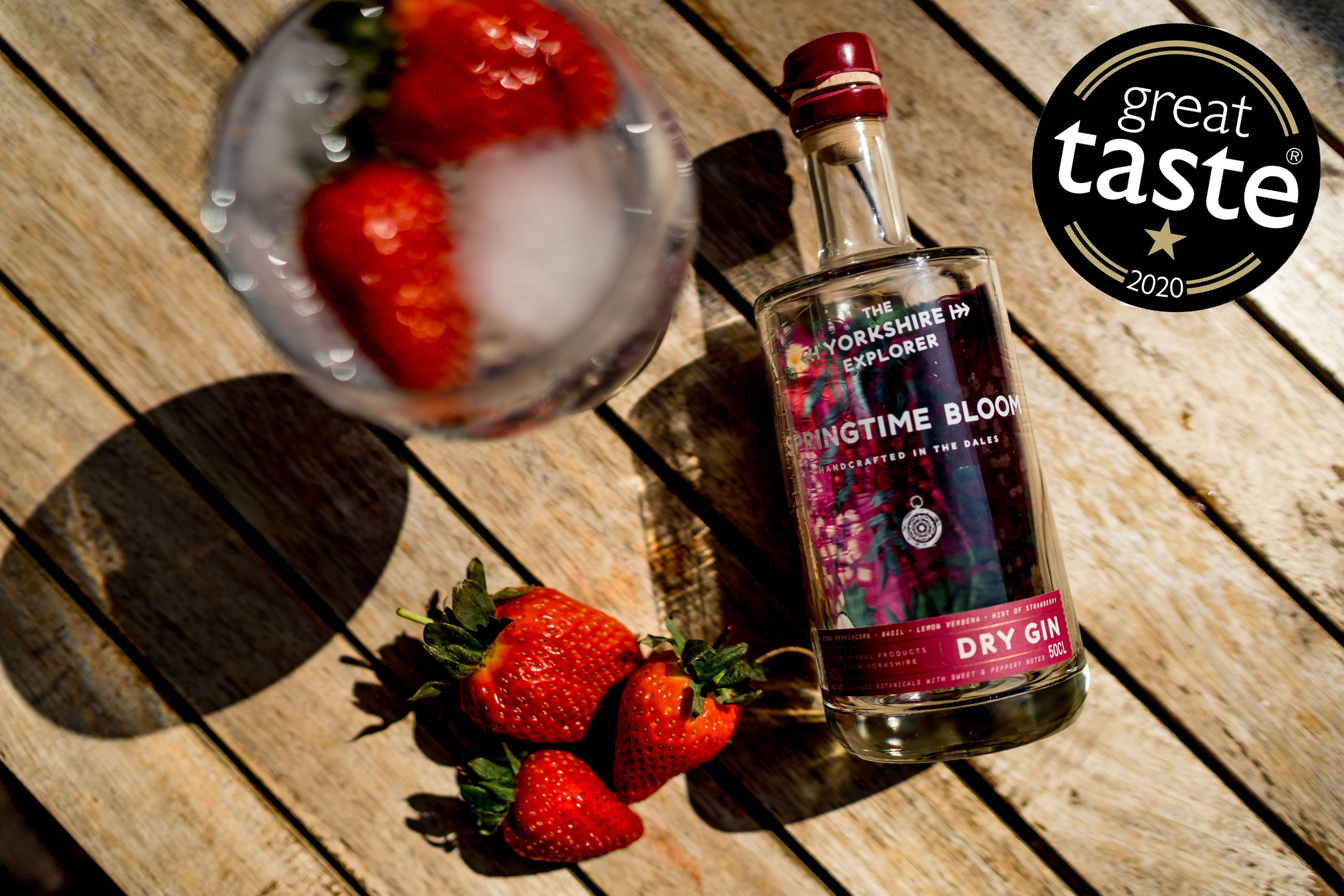 Springtime Bloom, the 2nd gin in Yorkshire Explorer's seasonal gin collection has been awarded a Great Taste star at the prestigious 2020 awards.  Out of 12,777 products sent in from 106 different countries, Yorkshire Explorer Springtime Bloom was awarded the 1-star Great Taste award, which means judges dubbed it a product that delivers fantastic flavour. Judges noted that Springtime Bloom had a "Clear strawberry aroma with support from basil and pink peppercorn. Beautifully balanced fruit, spices and botanicals are enhanced with a well-rounded, candy-like sweetness. Almost floral on the finish yet not losing the fruit and pepper, spice and even capsicum pepper notes. A great journey of flavours."
Judged by 144 of the most discerning palates, belonging to food critics, chefs, cooks, restaurateurs, buyers, retailers and producers, as well as food writers and journalists, Great Taste is the most coveted of all food and drink awards. As well as a badge of honour, the unmistakeable black and gold Great Taste label is a signpost to an outstanding product, which has been discovered through hours and hours of blind tasting.
This year's winners have been found through a combination of remote judging and socially distanced judging sessions, after the lockdown began just one week into the schedule. This necessitated a swift and comprehensive reinvention of the Great Taste process to ensure that robust judging standards were maintained and the quality of feedback was not compromised, all in time to provide a much-needed boost for food and drink producers during the all-important Christmas period.
Distiller Callum explains; "we had not previously entered the Great Taste Awards so were excited to see how our Springtime Bloom, the 2nd of our Seasonal Collection of gins, would fair against the stiff competition. We were absolutely thrilled to hear how well it was received by the judges, especially given the challenges we have faced this year, it could not be more welcome news."
Yorkshire Explorer was launched by events company director, Callum Houston almost 2 years ago. Since then the company has build a small batch distillery at their premises in Sutton of the Forest and have launched a collection of 4 gins each inspired by the botanicals of the different seasons, Springtime Bloom, Midsummer Nights, Autumn Hedgerow and Wild Winter Berries. They have also developed Explorers Rum, made with seaweed grown on the Yorkshire coast, which was featured on BBC Look North earlier this month. Explorers Rum, which was only released on the 20th of August looks set to be another roaring success with the first batch selling out within just 2 weeks.
There were 12,777 entries into Great Taste this year and of those products, 205 have been awarded a 3-star, 1,294 received a 2-star and 3,818 were awarded a 1-star accolade. The panel of judges this year included; cook, writer and champion of sustainable food, Melissa Hemsley, cook, writer, stylist and voice of modern vegetarian cooking, Anna Jones, celebrated Spanish chef, José Pizarro, Kavi Thakrar from Dishoom, food writer and cook, Xanthe Clay, and baker and author, Martha Collison, as well as food buyers from Selfridges, Fortnum & Mason and Waitrose.